04 May 2018
Yamaha adds new XSR700 to "VRT-free" deals
The new Yamaha XSR700 is now available from dealerships nationwide and, for a limited time only, is being offering "VRT-free" to Irish riders.
VRT is, of course, Vehicle Registration Tax and it's the main reason why bikes cost more here, in Ireland, than they do in other parts of Europe.
Rather than whining about it the people at Yamaha chose to absorb it as a cost on some of their models earlier this year.
As we reported in January, they 'cut the tax' on the VJR1300, the Tracer 900 and the Super Tenere 1200. That promotion went down a storm with both customers and dealers alike.
So now they are doing it again with the XSR 700.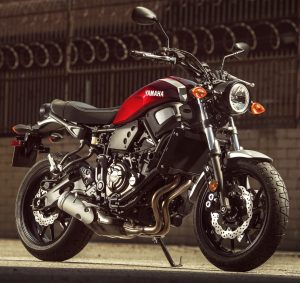 This is a bike that, while inspired by some of the most memorable and iconic models from our past, is right up to date in terms of technology.
Indeed Yamaha's Sport Heritage range is proving to be a major success with those riders who appreciate the marriage of timeless style and character with a sophisticated engine and modern chassis technology.
What Yamaha have done is create a retro-styled yet minimalist and contemporary high-tech motorcycle that delivers a straight line of torque and nimble handling.
It gives what the company themselves call a 'connected and emotional riding experience' which enables today's motorcyclists to discover the true essence of riding a bike.
The Yamaha Sport Heritage models seem to have hit a note with many of us. Indeed the latest European sales figures show that between 2015 and '17 more than 11,000 of us became the proud owners of a new XSR700.This makes it one of the most successful models in its category.
While all this is good news, the great news is that a bike this good costs only €9,399, even with the dreaded VRT. That means of course that whilst the VRT-free promotion runs you can save some €1,039 less and and ride off on a shiny new Yamaha XSr700 foronly €8,360.
Trade ins are, of course, still accepted and the bike comes with a full two year factory warranty.

Back to listing