30 August 2023
Yamaha Max's out scooter range with impressive 300

Yamaha has imported tried and tested technology from its bigger bikes to the new XMax 300. It's a move that makes for an exceptionally city-friendly scooter, which offers both agility and a bit of poke.
Paul Browne takes a look.
Yamaha has revitalised its Max scooter range with refreshed 300 and 125cc models.
Of the two it's the higher-powered version, the XMax 300, that catches my eye. It has it all.
Its redesigned bodywork features a narrower profile, yet a bigger road presence. This is thanks to its clever lighting.
And a lot more of that cleverness has gone into designing the machine.
Middle-weight scooters have always suffered from being somewhat unattractive, being built for utility rather than aesthetics.
Bigger smalls
But now the technology found in Yamaha's bigger and more expensive machines has made its way to this part of the range.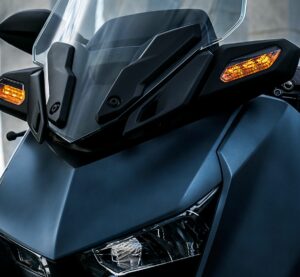 To this end, the front of the bike is illuminated by a clever X-shaped LED light.
This is complemented by a set of indicators that sit higher than for a traditional machine in this class.
This makes them both more visible and protected, by default, from accidental damage.
Backstop
Down the back of the bike, the indicators are actually integrated into the stop and tail light.
This feature is something that we only saw on high-end cars until relatively recently. These are, once again, a full LED affair.
The rider's phone can be mirrored on the bike's LCD screen, allowing calls to be received and messages seen.
That's also the case with the Yamaha MyRide app, as all sorts of ride data, including machine performance and running details, can be viewed at a glance.
Blue mover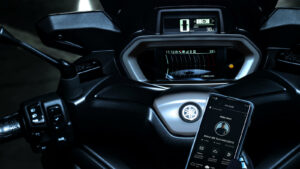 Powered by Yamaha's new Blue Core 300cc engine it's not only cleaner, but it's also more economical.
Safety is delivered via a traction control and ABS system.
The ignition is even keyless.
It's a bike that takes much of the pain out of the city commute. Because it's automatic, it's significantly easier to ride through traffic.
It also defaults to being perfect for stop-start riding for exactly the same reason. No clutch and no gearbox make waiting for the lights to change a whole lot more comfortable.
The XMax 300 has all of this and is currently available with a Yamaha price support offer. This will save new owners €749 and as such it's now retailing at €6,250. For more details see your local Yamaha dealer.

Max satisfaction? Call our two-wheel team on 0818 945 950 for your scooter insurance quote.
Back to listing