01 April 2022
Yamaha Launch A New Supersport Entry Level Machine
Reluctantly old enough to recall the 90s original, Paul Browne casts an appreciative eye over the new Yamaha R7, concluding it's a welcome and a fun introduction to supersports riding.
Those of us who are 'older than dirt' will, of course, remember the original wearer of the R7 badge, a 750cc inline four designed to win the WSB championship back in the very late nineties.
If you remember what we're talking about then the new R7 isn't for you. It's for your adult children. You're too old.
The all new YZF-R7 supersport model features the ingenious 689cc engine developed by Yamaha mounted in a lightweight frame.
The idea behind this one is that it's a fun way to be introduced to the world of supersport machines.
Great ride
The thing that I really like about the CP2 engine is that it's really easy to use and it provides a great ride without intimidating the rider.
After all not everyone wants to live up at the rev limiter on an R6.
Placing it in a lightweight frame which has been tuned for well-balanced rigidity makes it work really well.
Fine feedback
Matching this with a set of upside down forks – which give excellent front end feedback – married to model-specific rear suspension, means it'll go where it's pointed.
This is the first bike powered by this engine that comes with a slipper clutch.
The A&S unit from the FCC Company lightens clutch lever pull, and also inhibits the effects of back torque on the bike's behaviour.
In short it reduces excessive engine braking for greater rideability.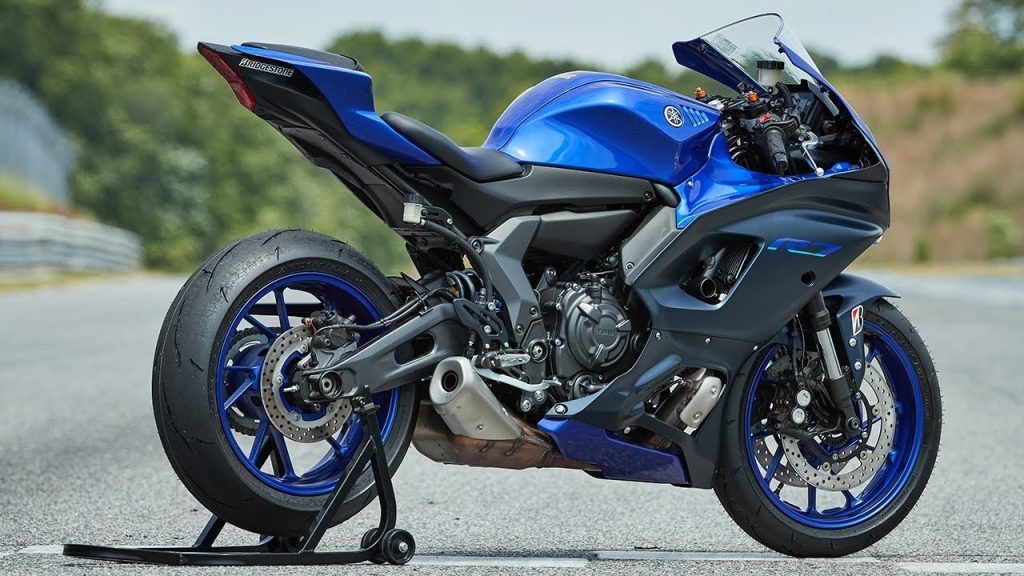 Tuck in
The riding position makes it easy to quickly get into a tuck when getting the power on.
It also provides excellent hold for the rider under braking.
The seat width is narrow and gradually widens toward the rear. This allows the rider a choice of seat positions and helps those of us with a shorter inside leg to find the floor more easily.
LED lights, a quick shifter, radially mounted brake callipers and an LCD instrument cluster are all things that those of us who remember the original R7 could only have dreamed of back then. These are, of course, all standard on the new machine.
Prices start at €10,349. Contact Yamaha dealers nationwide for more information.

R U looking for geat Yamaha motorbike insurance? Call our specialist team in Dublin – 0818 945 950.
Back to listing