24 August 2023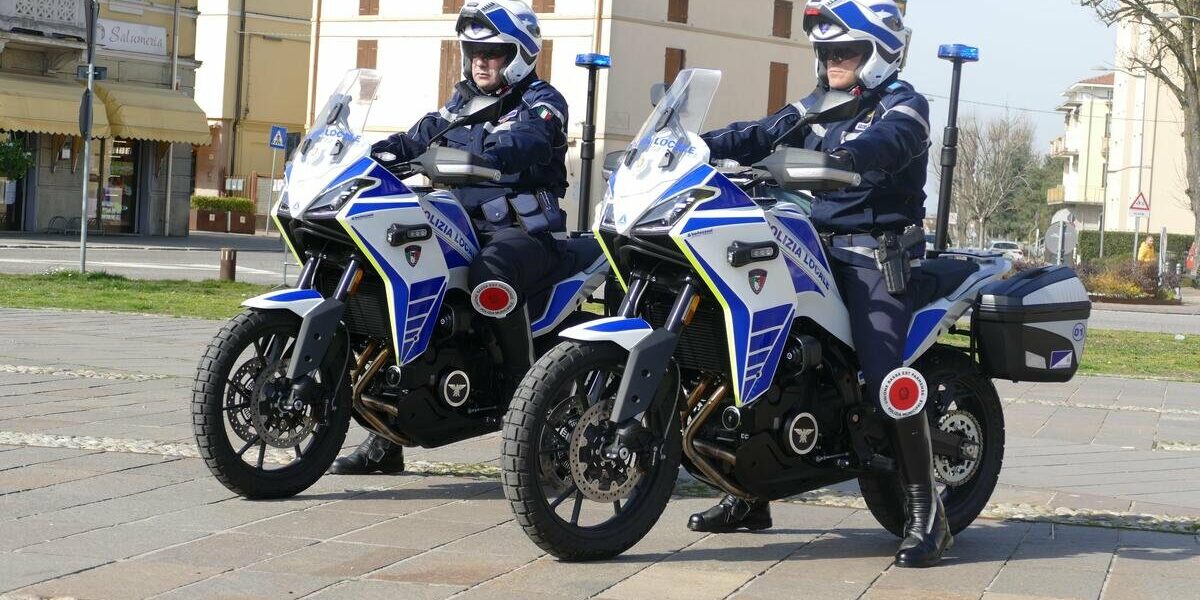 X-Cape 650 an arresting choice for Italian police
If you're unlucky enough to get a ticket from an Italian bike patrol officer, you'll take some consolation that it'll be handed over by a cop that looks really cool. Well, their ride at least.
Paul Browne reports on a new recruit to the force.
In Italy, even the police ooze style.
Take a look now at the local crime stoppers in a number of Italian cities.
Not for them, the mundane or ugly.
No, they've enjoyed being upgraded to a new fleet of Moto Morini machines, with the decision coming from up on high that the girls and boys in blue should patrol astride the X-Cape 650.
So far, so cool.
Dressed up
But there's more. For the official issue machine, the 'authority' bike, the Italian company partnered with a company called Bertazzoni. This is the crew who 'dress' bikes with all the kit that they need to join the force fleet.
As it is the X-Cape 650 comes as standard with a very high specification.
A Bosch ABS system is switchable and delivered via a pair of Brembo callipers up the front and the same brand on the rear.
Shod as standard on the well-regarded Pirelli Scorpion Rally STR tyres and sprung with an adjustable Marzocchi front end, these machines want for very little.
Siren call
So Bertazzoni added the police bits.
These include "additional luminous and acoustic devices of alarm".
This simply marvellous collection of words could be distilled down to "it has blue lights and a siren". But why ever would you want to do that?
What they have done is fit these pieces to the same standard as the factory switch gear, so it all looks seamless and falls into the rider's hands with ease.
One of the main reasons the police forces chose the X-Cape is because of the bike's ease of use on Italian streets which can be tighter than a supermodel's catwalk smile.
Street deal
Here, on Irish streets, its lightweight, tight turning circle and appropriate seat height make it a bike that's easy to ride at a slower pace, while still being able to 'pick it up' when necessary.
The X-Cape 650 along with the Sezzimoto – minus the blues 'n' twos – are available from Moto Morini dealers across the country.
To find out more about the range you can talk to Shane at Barcon Moto on 026 68000.
On a final note, Italian motorcycle police officers are known as Centaurs. As job titles go that has to be one of the very best!

Arresting Moto Morini motorbike insurance? Fermare! Call our two-wheel team on 0818 945 950.
Back to listing