11 January 2018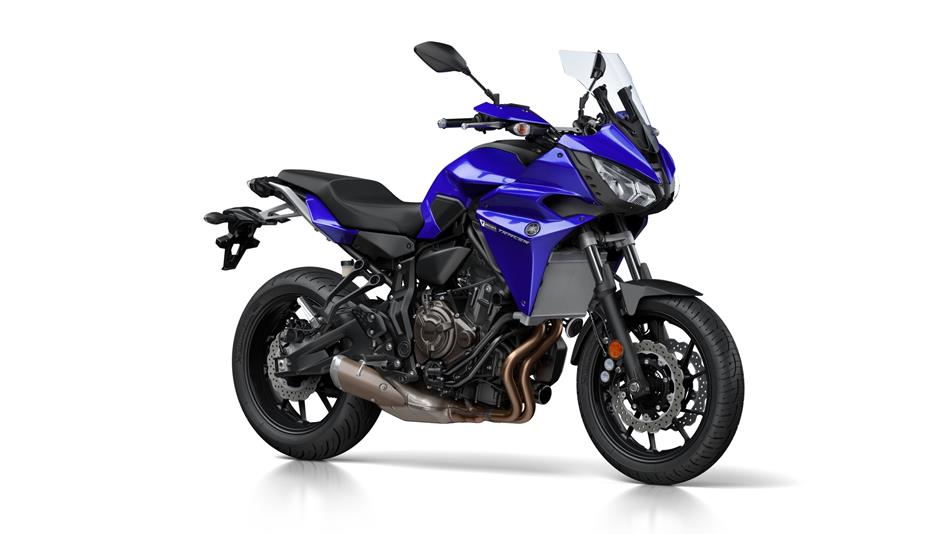 Tracing a line with Yamaha's tidy new tourer
If you like covering the miles you'll know the importance of picking the correct bike for a long-distance job. It can mean the difference between having a good night out when you get where you're going, or needing an early on!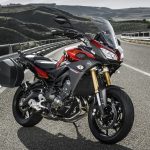 Whilst derived from the rather excellent MT 09 (left)  Yamaha's Tracer is still very much a tall tourer. It's just a much smoother, more comfortable and less intimidating one. That and it feels more dynamic and more than a little faster thanks to those MT 09 roots.
The bike comes with a slipper clutch as standard. This is a clever piece of kit that allows for smoother down shifts. There is also a traction control system that has three different settings and a choice of three different riding modes.
All of the necessary information including speed, modes selected, revolutions per minute, indicators, time of day and range is displayed on a clear and easy to read dot matrix instrument panel that simply falls to the rider's eye as easily as the controls fall to their hands. The handlebars even have plenty of space for adding a sat nav unit to. There's even a power socket built into the fairing for the same.
Under the covers there is still a sports orientated bike with a short dynamically performing chassis as well as that gorgeous swing arm and stubby exhaust. The chassis itself is a slim and lightweight piece while still having the strength to carry a rider, pillion and luggage.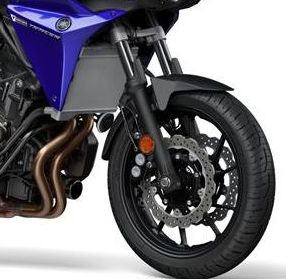 Yamaha have altered the chassis to include a main stand that is perfectly balanced and allows a fully loaded bike to be parked and, most importantly, packed with ease.
The bike already has mounting points for the side boxes and can take a rack and top box without dramatically altering its look or rideability. This adjustability continues with a choice of height settings on the rider's seat as well as a dial for the twin sports headlamps up the front which can be directed up or down depending on the load that the bike is carrying.
The motor is where it's at with the Tracer once the bike is underway. The early delivery of torque promises more –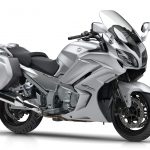 and that's what it delivers. The performance also belies the fact that it's actually quite a small machine where these bikes are concerned. This is one goes up against BMW's F800 or maybe Honda's Africa Twin, but feels bigger and more competent.
The rolling weight is reduced all around the bike with lightweight components as well as features such as LED lights and a single button instead of the kill switch and starter buttons.
The bike already has handguards as standard as well as touring accessories and you can add a taller screen if you want. Yamaha have a vast range of pieces that can be added on, as do most decent aftermarket suppliers.
If you fancy checking the Tracer out first hand, it's available from Yamaha dealers nationwide, including Dublin's two showrooms, Moto4u (014055 220) and Megabikes (014784 200).

Back to listing