18 February 2022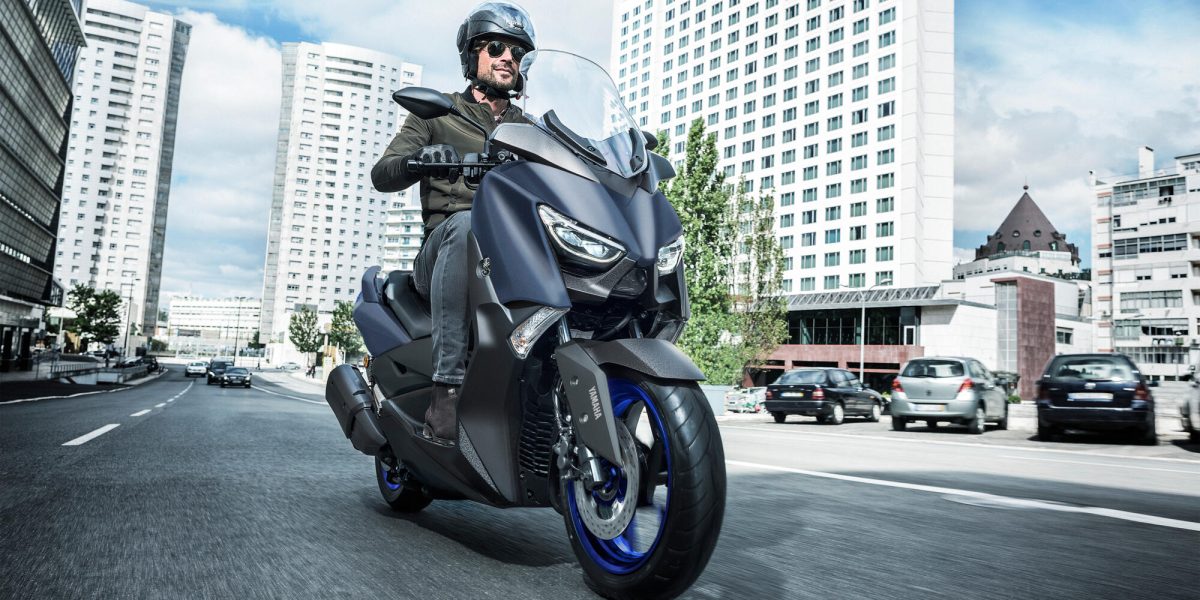 Take it to the Max!
What with fuel prices soaring and our urban arteries getting increasingly traffic-clogged, for many of us, it really is time to scoot. If that's where your helmeted head's at, Yamaha's compact XMax 300 sports scooter could be right up your street. Paul Browne reports.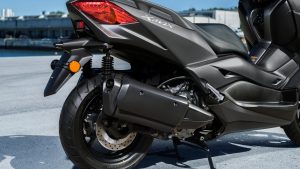 Inspired by the legendary TMAX, Yamaha's XMAX 300 may have a smaller engine, but it's finished to the same high standards.
Details such as its clever aerodynamic cowl, LED lighting and boomerang side panels which deliver such dynamic looks, are pure T Max.
They're just wrapped up in a smaller, A2 licence friendlier package.
Blue mover
At the heart of the bike there's a new Blue Core technology 300cc engine.
The Blue Core bit is about making more power while using less juice.
This has to do with timing, valve shapes and the size of the combustion chamber.
The end result is a cleaner leaner running machine and Yamaha are to be commended for doing the work.
Electric experience
The electrics package is from the big bike play book, with both a full ABS system in addition to traction control that reduces the drive if it 'feels' the bike starting to slip.
This makes for a significantly safer riding experience.
The electrics suite also embraces a keyless ignition system and a remote control for locking and unlocking the beast.
There's even a phone charging port in one of the panels in front of the rider's knees.
The lighting on both the front and rear are LED units.
Space odyssey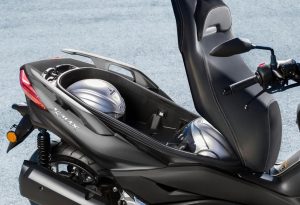 One of the really simple, yet critical things about the X Max is its practicality.
The 'bin' or storage unit under the seat has enough space to hold two full face helmets. That space is itself lit with its own internal LED lighting and, with that much under-the seat-capacity, carrying stuff for work or a date is easy.
While you could add a top box most of us wouldn't need to. What's more the weight of whatever you're carrying is sitting low enough not to cause any sort of handling challenge!
In the meantime that seat has a rider's backrest halfway down it for added all-day riding comfort.
So if you'd like maxi scooter performance, efficiency and comfort yet still demand the running costs of something much cheaper the X Max 300 could well be what you're looking for.
They are  in stock today and will run you €6,899.
See your local Yamaha dealer for more information including finance options or give Robbie a call on 01 4784 200 and dial 5.    
Back to listing