09 June 2023
Safety is in the jeans
When it comes to motorcycle protective wear, you might want to study at the school of hard Knox.
Not only will you learn how best to protect your body, you'll also find the uniform is pretty snazzy too.
Paul Browne reports.
Last week's BikeFest event in Killarney was a huge success.
There were a large number of people in the town and a simply massive amount of bikes, a lot of Harley-Davidsons but also a host of other impressive machines from many other manufacturers.
What was very much missing was anything in the line of PPE.
Some riders' reluctance to dress appropriately for riding bikes still appears to be somewhat of a style issue.
This no longer needs to be the case.
A casual-looking jacket can hide a host of safety features.
Now something good enough to turn up in for lunch can be fitted with everything from a set of armour to an airbag.
Jean cool
Among my favourite pieces of kit are Knox's new Shield Spectra jeans.
I looked so good in them that eyebrows were raised in Killarney. I was asked several times by my colleagues why had I compromised my own strictly conservative dress standards by wearing casual leg coverings.
What's more these stylish pieces of special denim carry a AAA safety rating. That's a big deal, especially if you consider it matches the triple-A awarded a one-piece racing suit!
They are a true single layer jean, with, unlike most, no extra mesh lining.
They're made with a newly developed Spectra denim which means they look exactly like regular jeans but come with incredible strength and durability.
This Spectra fabric is 40% stronger than aramid and fifteen times stronger than steel. This makes it one of the world's strongest and lightest fibres.
Add in the Ultra-High Molecular Weight Polyethylene fibres that these jeans are also made from and we have the stretch for exceptional all-day comfort on one's motorcycle.
Armour amour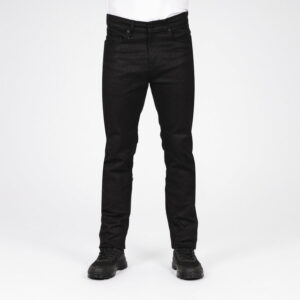 One of the features that I really like is the four invisible armour pockets.
These allow the wearer to remove a set of low-profile Knox Micro-Lock protectors. These are in the hips as well as the knees.
All of this is delivered with a carefully tailored tapered fit which looks perfect both on and off the bike.
Details such as leather branding on the waist, branded rivets, a key ring clip as well as YKK zips all finish them to an incredibly high standard.
You can pick up a pair at Overlanders over in Wexford where they'll set you back €299.95.

Great protection? Call our two-wheel team on 0818 945 950 for your motorbike insurance quote.
Back to listing