29 June 2015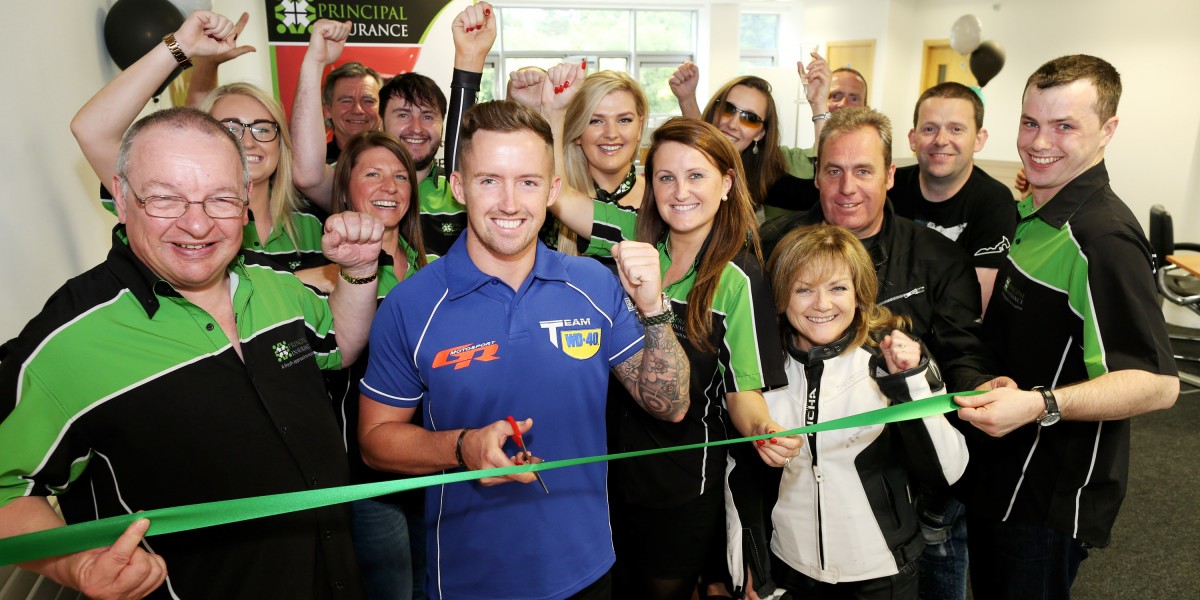 Principal Opens New Dublin Office
British Superbike rider Jack Kennedy earned Principal Insurance pole position in the race for success in Ireland's bike insurance market when he opened the company's new Dublin office.
The former Monarch of Mondello, who switched to BSB from the World Supersport series this year, called into Principal's Santry HQ to officially mark the company's arrival in the country, following on from its 2011 launch in the UK where it is one of the fastest growing bike insurance brokers.
Meeting race fans and Principal staff outside the Santry office, the Team WD-40 Kawasaki race ace said the company's arrival was good news for Irish riders.
"It's hardly surprising that someone as competitive as me would welcome the arrival of a new player in the motorcycle insurance market here in Ireland," he said: "Competition is good, it pushes everyone to try that much harder, be that much better. From what I've already seen of Principal it's clear they can shake things up, not just because they look to have great rates but because they really know their bikes.
"A more competitive market just has to be good news for Irish riders."
Principal's Aly Dixon, who heads up the new office, thanked Jack for taking time out from his busy schedule to visit as he prepares for BSB round five action this weekend at Knockhill. The rider has championship ground to make up after engine trouble forced an opening lap retirement at last month's Snetterton meeting.
"Jack knows more than anyone the inconvenience a mechanical failure can cause and no doubt appreciates that here at Principal we include extensive breakdown cover with ever one of our motorcycle policies!" joked Aly. "But seriously, we know Jack was gutted by what happened at Snetterton and has been putting his all into preparing for Knockhill so we're immensely grateful that he took precious time out to lend his support and officially mark our arrival in Ireland"
Jack's endorsement of Principal follows an enthusiastic response from the Irish motorcyclists' association, MAG Ireland when it first heard the company was coming to Ireland. When the news first leaked in February press officer Victor Donnelly commented:
"MAG Ireland welcomes the announcement by Principal Insurance that it will enter the Irish market following the successful growth of the business the UK. As a specialist broker, Principal Insurance combines a unique knowledge of the motorcycle insurance sector with a well-established product portfolio."
Back to listing