10 February 2023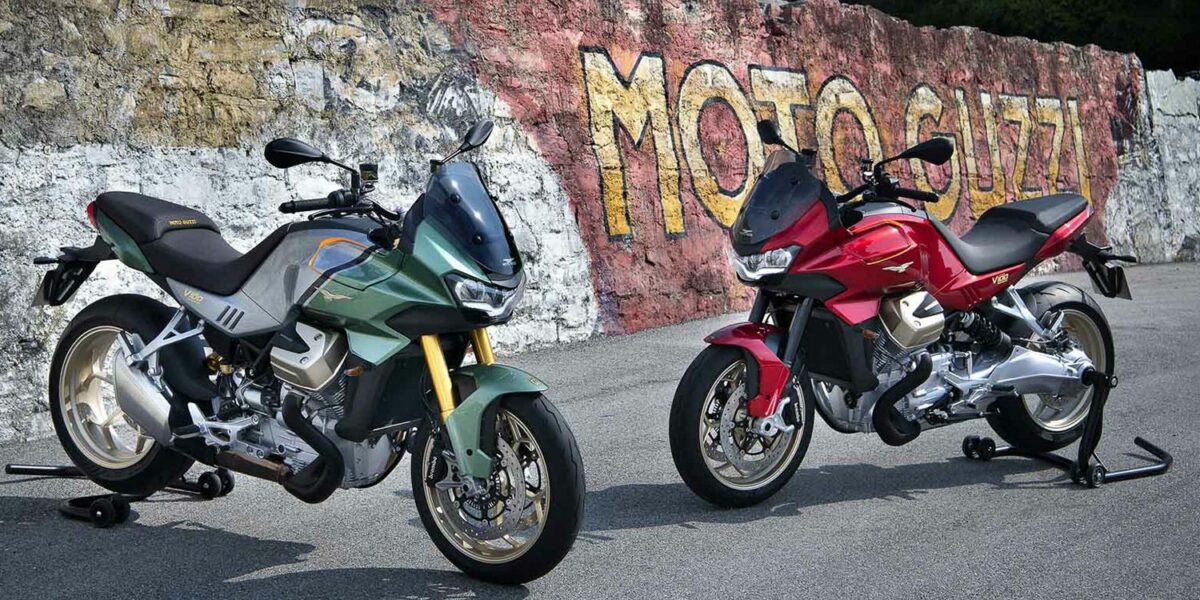 Moto Guzzi V100 Mandello rides into comfort zone
Moto Guzzi has hit its traditional comfort zone with the new V100 Mandello, a roadster so well built for ease it'll double up as a tourer. Set the controls to cruise and enjoy an aerodynamically enhanced ride….
The latest Moto Guzzi to come to market is the V100 Mandello.
The Italians reckon that they've delivered a new all-rounder that is capable of taking on a variety of different riding styles in a variety of different places.
While the bike is built with the old school comfort for which the brand is renowned, it also very much looks to the future with a host of new technology.
Suspense full
Thanks to a partnership with suspension legends Öhlins, the S model comes with dynamic control suspension.
More precisely we're talking the Öhlins Smart EC 2.0 semi-active suspension.
This is put to work delivering a level of control and dynamic feedback that we just don't expect from this class of motorcycle.
Simply use the riding modes function to select the set up and the bike automatically adjusts the suspension for optimal performance on any type of surface in all types of conditions.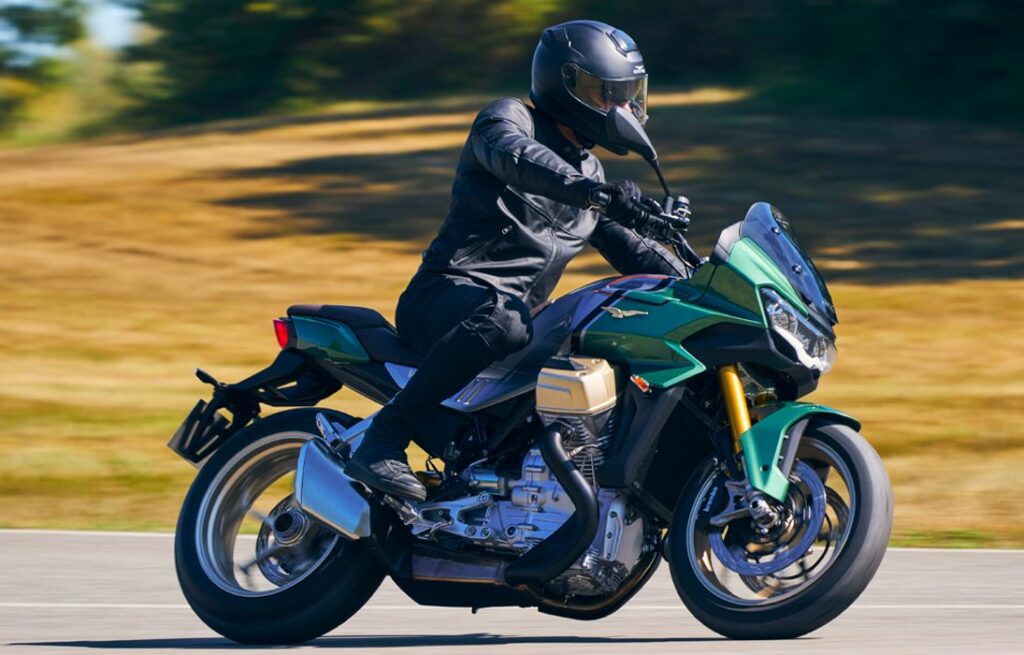 Tour support
While it presents itself as a roadster, the Mandello very much has the comfort of a more-than-capable tourer.
New tech such as the bikes adaptive aerodynamics make for a machine that is comfortable for both the passenger and the rider.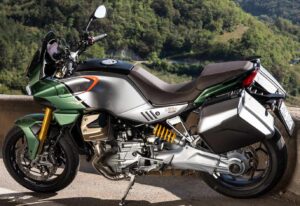 It's not just about handling and comfort.
Powered by a 1042cc V-twin, the V100 Mandello puts out 115 horsepower along with 105Nm torque at 6750 rpm, delivered by an up and down quick-shifter.
This makes for seamless, clutch-free gear changes just like a modern race bike.
This kind of rider comfort is complimented with such practicalities as a set of panniers and even a heated seat.
Cruise Control also takes the fatigue out of a long day in the saddle.
Breaking wind
Adaptive aerodynamics – a claimed first for a motorbike – reduce the  air pressure on the rider.
The tech does this by adjusting the position of the deflectors relative to the speed that the bike is moving at, as well as the selected riding mode. Clever stuff.
The Mandello, along with the rest of the Moto Guzzi range can be found at Megabikes in Ballymount where the standard one will run you €17,495.
Give Kieran a call on 01 4784200 to find out more.

Moto Guzzi insurance quote? Call our specialist motorbike insurance team on 0818 945 950.
Back to listing