20 August 2021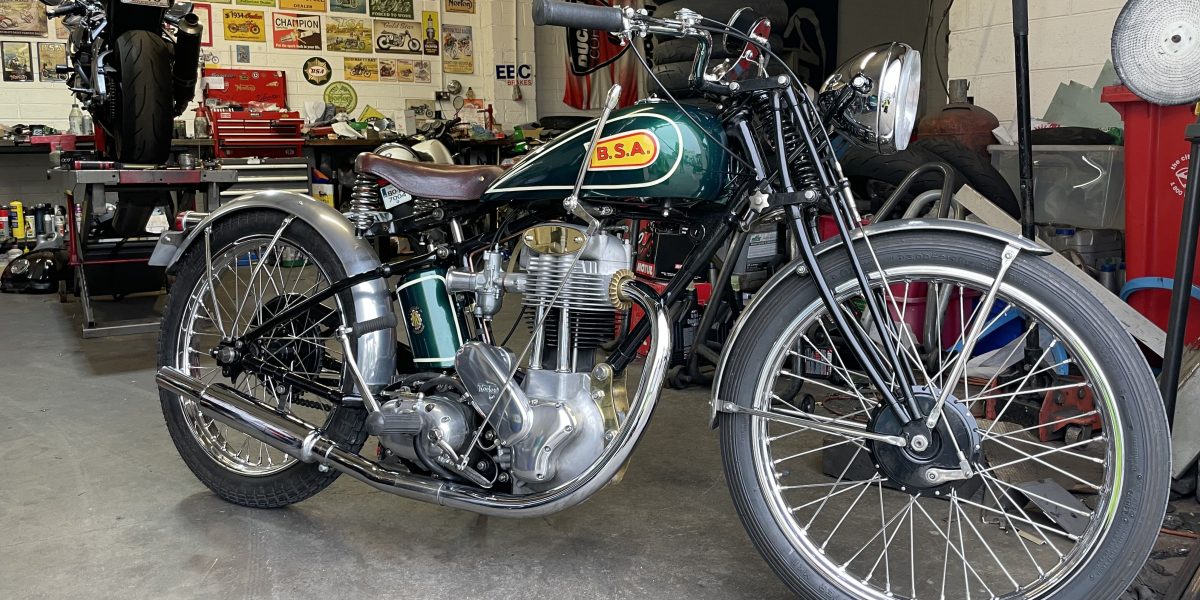 Meet the new 1929 BSA S29
A trip to a motorcycle workshop on a Dublin industrial estate, found Paul Browne discovering a real treasure.
A 'new' 1929 BSA S29, built up from a rusting frame (left) by Mototechnic's gifted Robbie McGrath.
I was recently introduced to a new 1929 BSA S29 at Mototechnic in Dublin.
Several years ago, at an agricultural auction in Cavan, workshop mainman Robbie purchased a rusty frame. It was  attached to a set of forks and came with the bare bones of a long degraded seat.
This barn find then sat in the workshop for another 18 months.
Robbie needed mull over what condition he'd like it in when he hung it on the wall as some sort of decoration.
Missing links
So much of it was simply missing with the 500cc engine and its associated three speed hand change box being long gone.
Then a 1963 Norton 350 single cylinder engine turned up which Robbie saw as a decent match for that BSA frame.
Visually it worked. He could see the finished bike.
A four speed gear box from a BSA A10 was then sourced.
In order to stay true to the original machine a hand change gear box was necessary. This was all made by hand with all the new mounting plates being built from scratch.
Wheel Triumph
What to do about wheels which were noticeable only by their absence?
Steeping into the frame were the rear wheel hub of a 60s Triumph and the front hub from a 1958 bike from the same company.
These were used as the base for a new hand-built set of wheels.
Meanwhile the frame itself was cleaned up and stretched to fit the new gear box.
The tank was a parts pile find. It took some serious adjustment, but was made to look and fit exactly as the original would have.
The handlebars were bought in from the UK to match the originals.
Hand model
Robbie made a leather seat cover himself.
Also handmade was the oil tank.
The alloy rear mudguard is actually two smaller ones, tig welded together, while the tail light carrier is made from stainless steel.
The primary drive casing on the left hand side was made out of an old metal sign. On this alone Robbie recorded 90 hours' labour.
Now he's commuting to work on it and having more fun on a road bike at 40mph than most of us could imagine.
It's also a great showcase of the engineering and mechanical skills to be found down at Mototechnic. If you're in need of a mechanical miracle or a simple service you can find Robbie on the KCR Industrial Estate or give him a quick call on (01) 490 8947.

Need custom motorcycle insurance? Call our specialist bike insurance team on 1890 945 950.
Back to listing