30 September 2022
Mash smashes it with new X-Ride 650 Trail
"Sacre bleu!" was Paul Browne's reaction on discovering the latest offering from French motorbike manufacturer, Mash. But in a good way. The new X-Ride 650 Trail is right up there with Beaujolais and smelly cheeses among our continental cousins' impressive exports.
Desperately cool motorcycle company, Mash, have done it again with a very hip new bike called the X-Ride 650 Trail.
This is yet another beautifully designed and built bike from the company – and the great news is that it'll be available in just a few weeks.
The wheel thing
Mash's new machine starts with a set of spoked wheels that sit on gold rims.
The wheel sizes are a real trail riding 21" on the front and an 18" offering on the rear. This not only looks the part, but it also promises real-world off-road performance.
But it's not all about how the bike looks.
Mash have taken how the X-Ride 650 Trail performs just a seriously as how it's styled.
To this end they've fitted a brand new set of 43mm front forks made by an off-road specialist company called Fast Ace. They are, of course, fully adjustable for both rebound and compression.
Complimenting these on the other end is a brand new reinforced swingarm.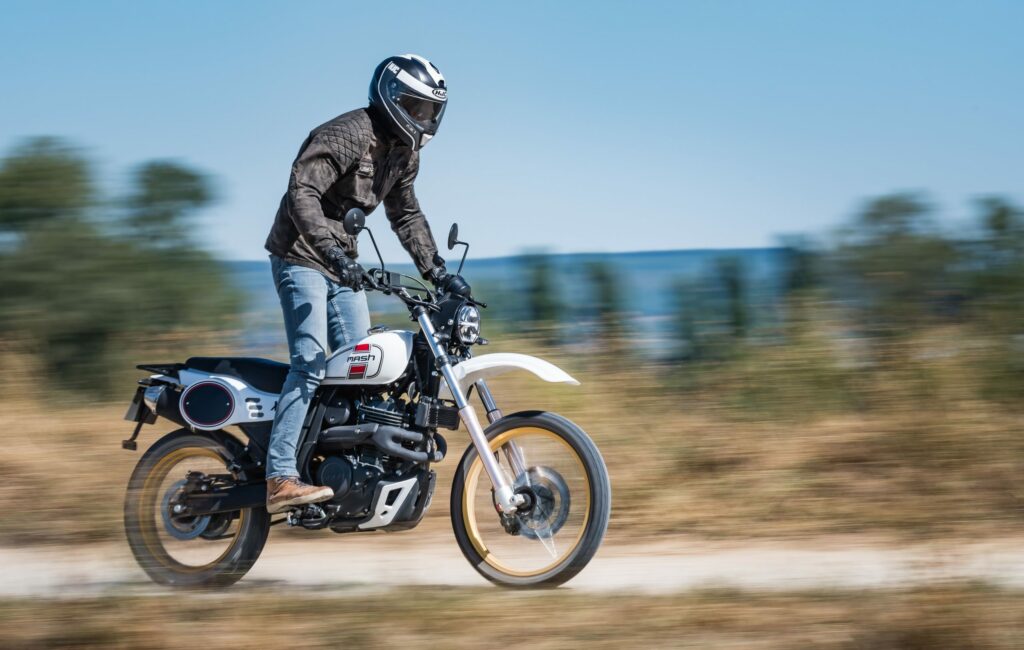 Fit retro
This new X-Ride 650 Trail uses Mash's 644cc single-cylinder engine.
The well proven block is both oil and air-cooled and it produces a more than acceptable 40bhp.
Also new is the highly functional, but very cool looking, high level off-road exhaust.
I really like the way that the company have captured that retro enduro look.
One of the key features when it comes to making a bike look at home in this category is the high front mudguard.
On this they've nailed it!
Box set
Then there is still the practicality of the rack down the back. The latter will accommodate a top box.
All of the retro looks are contrasted with a set of lightweight and powerful LED lights.
There's even a USB port built into the bike.
Priced from €£8,250, the new Mash X-Ride 650 Trail comes with a two year warranty with no mileage limitations.
It will be available from  Bikeworld on Dublin's Naas Road. Call Neill on 01 4566222 for details.

Motorbike insurance quote? Call the specialists. 0818 945 950.
Back to listing