08 January 2018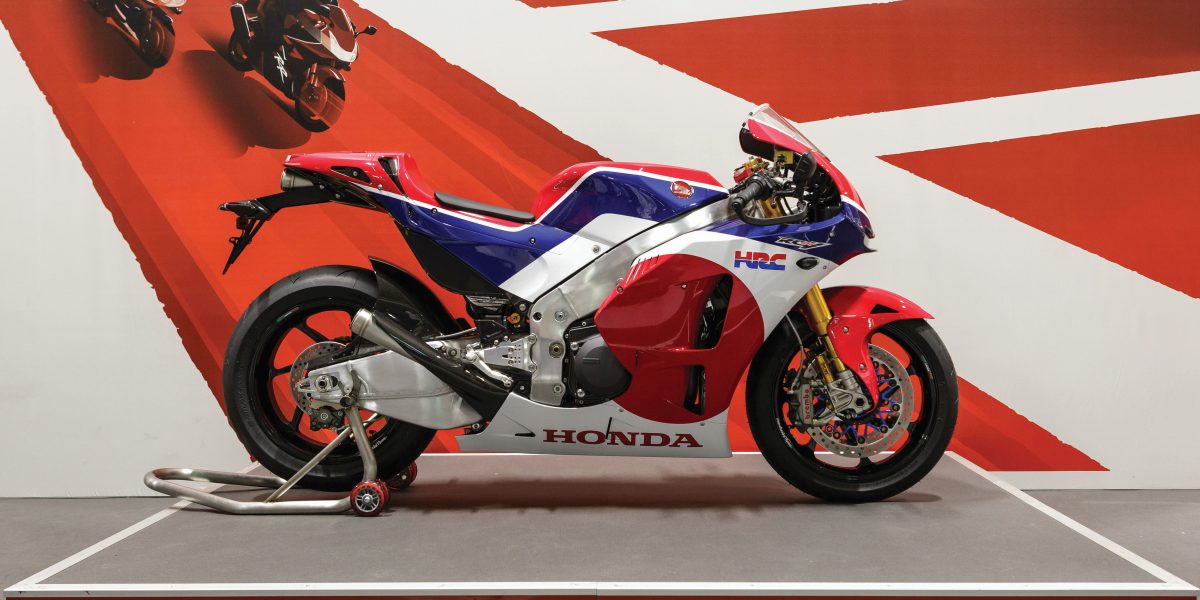 Honda RCV 213V-S? We'll take one in each colour!
At the recent bike show in Dublin, Honda's RCV 213V-S simply stole the show, drawing visitors to the stand in their thousands
A road-going version of the Moto GP winning RCV, this magnificent machine sat behind a velvet rope, carefully guarded by some of the more ferocious members of Honda Ireland's marketing team.
The RCV 213V-S is a fully road legal bike. If it was yours you could take it for a spin down to the Wicklow Heather in Laragh for a full Irish of a Sunday morning. Hand built by HRC in Japan it benefits from the same component weight reduction manufacturing that the race bikes have and has a number of small changes to make it road legal. These include fitting a side stand as well as a suite of lights and a set of bar end-mounted mirrors.
Click thumbnails to enlarge.
In the motor the race bike's pneumatic valves are replaced with coil springs and the track gearbox replaced with a normal road one. This is quite simply to add durability for long-term use. Other than that, the swing arm and frame are finished by hand as is the rest of the bike.
Other bits and pieces not found on the race bike include a horn, registration plate hanger and brand new tyres as well as a completely new road braking system. On the chassis the bike has a more practical, wider, steering ratio. There is, of course, a starter motor as well as a key.
These bikes are for sale, but with an asking price of somewhere in the region of €230,000 we don't expect to see one on a breakfast run anytime soon. But if you are in the market, contact Barry at M50 Retail on 01 438 1999.

Back to listing