14 August 2020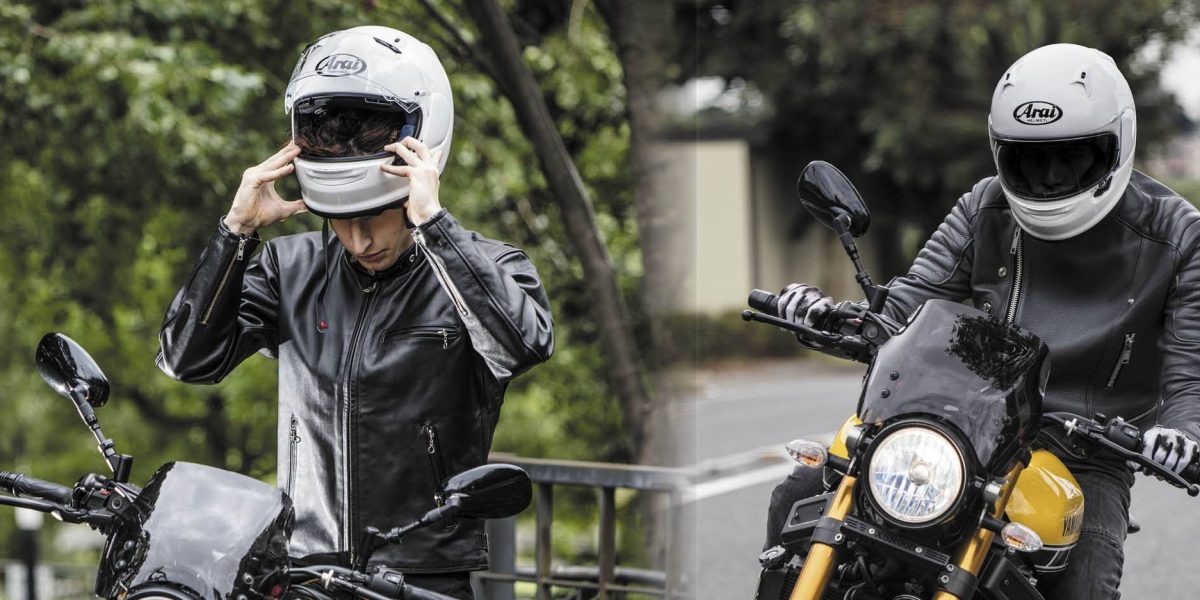 Head first
So, if you're reading this, congratulations. It means you've made it through the first stage of the first part of stage one. On you and we go, forward, lockdown cautiously receding in the rear view.
If, like many of our readers, you already own a motorcycle then you're already ahead of the posse, and in more ways than one. If not, or if you've been off your bike for a while, you may be thinking it makes whole lot of sense to use it more than you would have in the past.
The bus is a non-runner for most people and taking anything other than a single track motorcycle into the city is going to add hours onto our working days.
Yes indeed, motorcycling as a commuter solution is back!
For many people who choose a bike it's no longer an income-based decision. It's a clear choice they make in order to make life just that little bit safer and easier.
Head start
Speaking of safer, what better place is there to start than with than one's head?
The good people at Arai have recently released a new helmet called the Profile-V.
This is a brand-new piece of hard headgear from the Japanese manufacturer and their timing, it would appear, couldn't be better.
As seasoned observers of Arai's output might expect, it has a bold, aggressive style. Rather cleverly – and timely – it's been designed to welcome riders to the Arai family. It does this with plush comfort, protection and all the safety features expected of the brand.
But it also has something else, it's incredibly easy to get on and off.
Shell suits
Like every other Arai ever made it uses a strong outer shell. This is designed to glance off impact forces, while maintaining integrity. This works in harmony with a softer one-piece multi-density EPS inner liner which has been developed to absorb and spread impact energy. I
The Profile-V incorporates the company's Variable Axis System, the clever, multi-pivot visor set-up first introduced to 2015's  RX-7V and subsequently rolled out across the range. This gives the helmet a smoother shape as well as creating a reinforcing Hyper Ridge that lowers the centre of gravity and flares out the opening by 5mm, making it easier to put on or take off .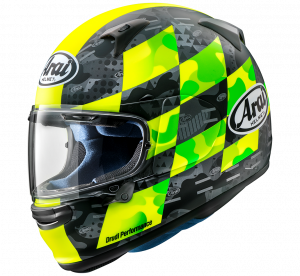 This last bit makes it a much more comfortable piece and is particularly good for the novice rider or pillion, a rider who isn't used to wearing a full face helmet or anyone who is perhaps a little claustrophobic.
The semi-removable interior also features a Facial Contour System and even has speaker pockets!
The really clever thing about this new helmet is that it manages to do all this without being any less of an Arai.
Indeed it's equipped with dual intake vents, brow vents and a three way chin vent plus five exhausts. The VAS-V MAX vision visor uses their F1-derived latch mechanism, with a Pinlock ensuring that the visor won't fog up.
The Profile-V is, as they say, available from all good motorcycle accessory retailers, including Megabikes. For more on prices, availability and to arrange a fitting call them on 01-4784200.

Heading out and need bike insurance? Call our specialist team on 1890 945 950.
Back to listing