17 June 2022
GSX-S 1000 GETS FRESH STREET STYLING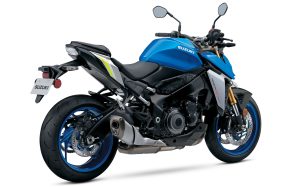 A new GSX-S 1000 has come onto the market.
Instead of dramatically redesigning the bike, Suzuki have given it the 'once over'.
However, they have done so quite comprehensively.
The GSX-S was always meant to bring the 'Gixxer thou' to the street in a more usable manner, using the same one litre engine in a friendlier state of tune.
Add a light chassis, a more relaxed riding position and a smattering of technology and you have just what you needed.
Street needs
Its engine is much more in keeping with something built for the road rather than the track.
A full suite of electronics comes as standard.
The ride by wire throttle is combined with Suzuki Clutch Assist System, (SACS). This goes a long way to making stopping quickly a lot less of a religious experience. It also makes taking off a whole lot more controllable.
ABS is standard and the GSX-S 1000's excellent braking system is delivered via a set of beautiful Brembo callipers.
Miles of style
The styling has also been reworked.
Suzuki's designers have made the new bike look a whole lot different to the old one.
It's sharper and leaner, with features like an LED headlight that also saves weight.
In addition Moto GP winglets have made their way onto a street bike.
Suits you S.I.R.S
An Intelligent Ride System (S.I.R.S.) offers three power settings, Sport, Street and 'my insurers have classified me as low risk' mode!
This works with a traction control system with five settings.
The new bike also has a bi-directional quick shifter.
A set of upside down KYB forks and the single shock on the rear are fully adjustable.
Conventional handlebars make it so much friendlier for those of us who have passed an age milestone along the way…
Suzuki's reworked GSX-S 1000 will run you €13,950 and is available from most motorcycle dealers across the country. Click this link to find your local showroom.

Best Suzuki motorcycle insurance? Call our specialist bike team on 0818 945 950 for a quote!
Back to listing