15 September 2023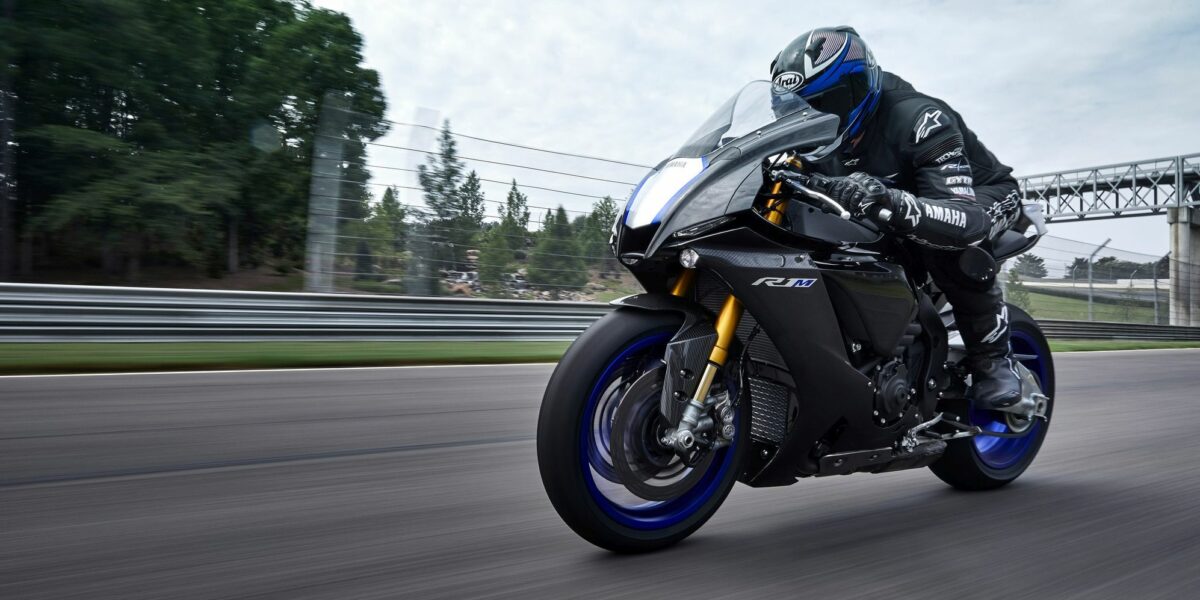 Get back on track with the R1M

Paul Browne is particularly excited this week for two reasons.
Firstly Yamaha's mighty R1M has returned to these shores.
Secondly, this gives him the excuse to casually and oh-so-modestly boast about riding this hugely impressive machine on European and Middle Eastern tracks.
Good news! The latest R1M is back in stock here in Ireland.
In case you've forgotten, just a reminder of what we're dealing with here.
With the R1M Yamaha has excelled in building a Moto GP-inspired production motorcycle that takes a whole lot from the company's race-winning M1.
This isn't a machine built for nipping down to Tesco. Indeed, whilst I wouldn't dismiss giving it a decent spin on a well-paved country road, it's been created for track use.
Beyond wonderful
The standard pack is beyond impressive and features technology which we more experienced Ladies and Gentlemen of the motorcycle community could have only imagined even a few years ago.
Now while I'm never someone to boast, I've been to Qatar and done a nighttime trackday on one.
I've also had the privilege of riding this magnificent beast at a Mugello trackday.
As a result, I'm able to confirm that not a single press release or editorial on this machine can adequately describe how truly wonderful the 'M' is.
I am, of course, going to give it a go.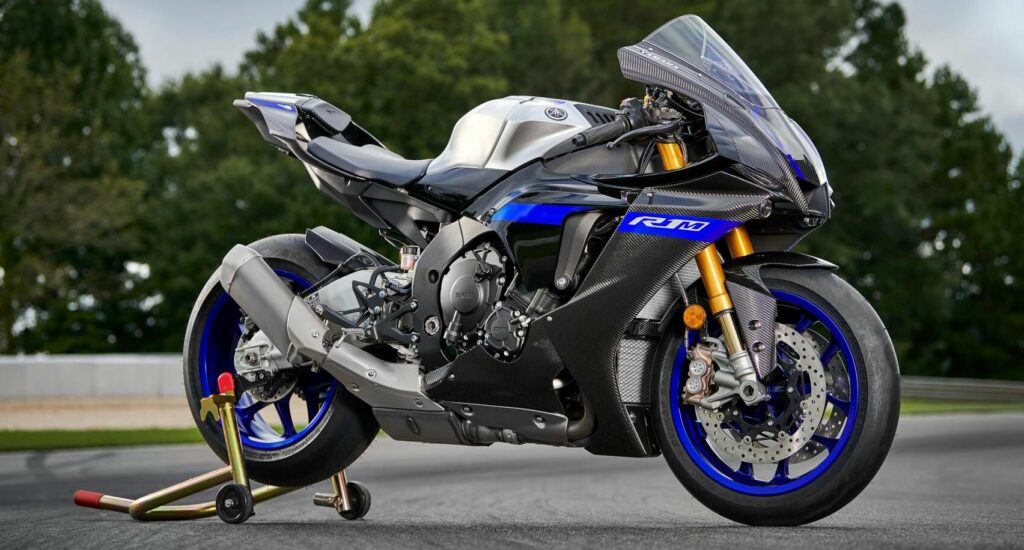 Blue swoon
Just walking up and casting a glance at the thing is an event in itself.
The blue wheels alone make it a thing of beauty. Add the low frontal area carbon bodywork – with blue detail – and the lightweight carbon tail and it's a bike to park in the living room. Yep, this one isn't going under a tarp in the back garden!
Simply drooling over it just wouldn't do. There is so much going on below the bike's surface that it more than warrants taking it out for a jolly.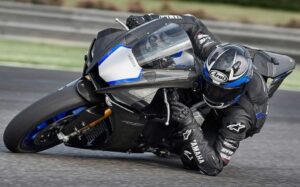 A complete racetrack package starts with the electronics.
These include a comms system that accesses the bike's data-logging and even allows for wireless engine tuning.
A ride-by-wire APSG throttle and a 6-axis inertial measurement unit are standard.
Full stopping
Levels of engine braking, as well as the brakes themselves, are adjustable and complimented by an all-new launch control, after all firing one of those over your head would make a stone cry!
The springs come compliments of Öhlins who use a combination of anti-captivation gas forks with electronic racing suspension.
The engine is the same as the standard bike, as is the frame. The lightweight wheels come on a set of Bridgestone Battlax RS11 tyres, with a 190 section on the rear.
This machine being more than a bit special, there is, of course, an engraved production number.
The new R1M will run you €24,499 and, for me, it's worth every cent of it! For more details, click the link to find and visit your local Yamaha dealer. I am, of course, available to run it in for you!

Yamaha road motorcycle insurance? Track down our motorbike insurance team on 0818 945 950!
Back to listing