29 April 2022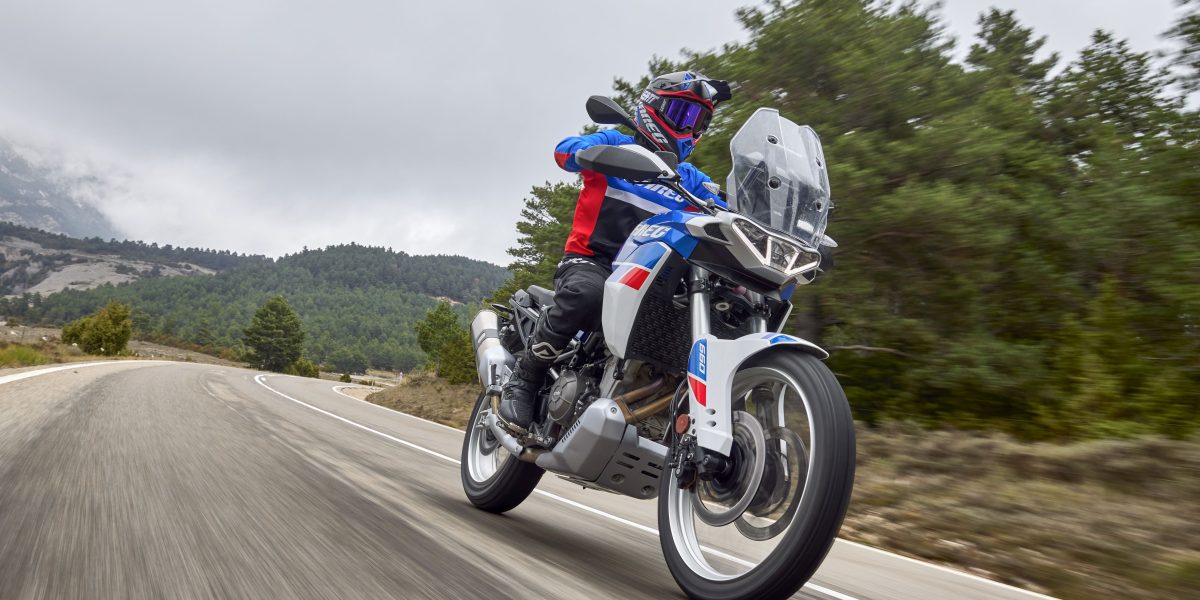 From dirt track to Dame Street, Aprilia Tuareg's got it covered
The new Aprilia Tuareg is great for tearing up the dirt, but, light, tough and impeccably dressed, is also quite the smooth operator on the tarmac.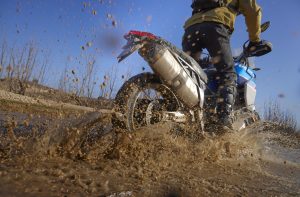 Whilst Aprilia's new Tuareg 660 is an excellent off-road bike, it's also exceptional on the road, particularly on longer, more adventurous trips.
It was developed on the mechanical base of the Aprilia 660 twin-cylinder, itself derived from the front bank of the 1100 cc V4.
However, the Tuareg 660 was designed and built to be the best combination of a single-cylinder enduro bike and medium-engine capacity adventure bike.
It enjoys the performance of an 80 HP twin-cylinder and a low weight of just 187 dry kilos.
Light work
There isn't a thing on the machine that doesn't need to be there.
While keeping it this light, the chassis was still designed for "heavy duty" use, off-road riding, with significant cargo capacity.
The frame is made with high-resistance steel tubes and cast plates with the subframe welded to it. It's capable of taking loads of up to 210 kg!
The aluminium swingarm is longer, ensuring maximum traction.
The fully adjustable Kayaba suspension system has 240mm of travel.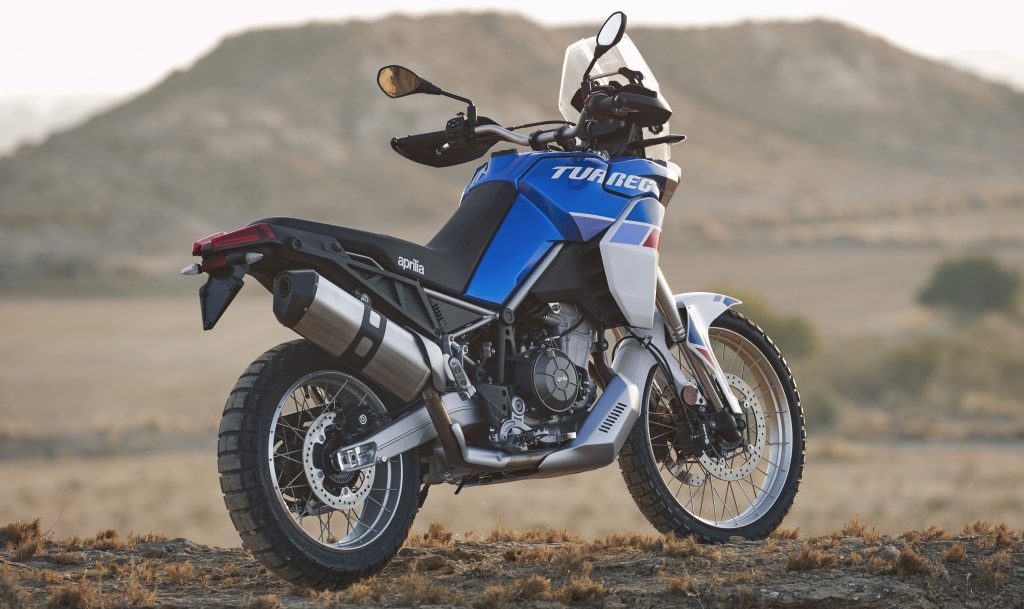 Rewarding ride
It also has a low straddle arch, so riders of any height can reach the ground.
The subframe was also lowered as much as possible making the riding position comfortable, with the wide and high conical aluminium handlebars giving ample feedback for a rewarding ride.
A Ride-by-Wire throttle is complimented by traction control that can be adjusted to four levels or disabled.
There's cruise control, adjustable engine braking control and three different maps to change the way the engine delivers its power.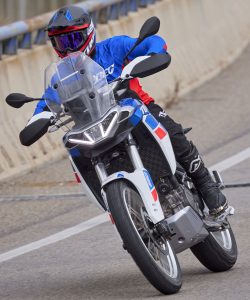 A quick-shifter is available as an accessory and the bike comes with four different riding modes, two for the road, one for off-road and one that can be customised.
Setting the bar
Drive is delivered via the multi-plate wet clutch which features anti-juddering. There's also a mechanically-assisted system that results in a handlebar control that is extremely soft to operate.
A full LED lighting system includes a new compact headlight unit featuring a perimeter daytime running light.
There's also a multimedia platform available as an optional extra. This allows the rider to manage music, phone calls and navigation, is available as an optional extra.
The Aprilia Tuareg is available from Megabikes with prices starting at €13,799. Give Kieran a call on 014784200 to organise a test ride.

Best Aprilia motorcycle insurance? Call our specialist two-wheel team on 0818 945 950 for your quote.
Back to listing