15 February 2023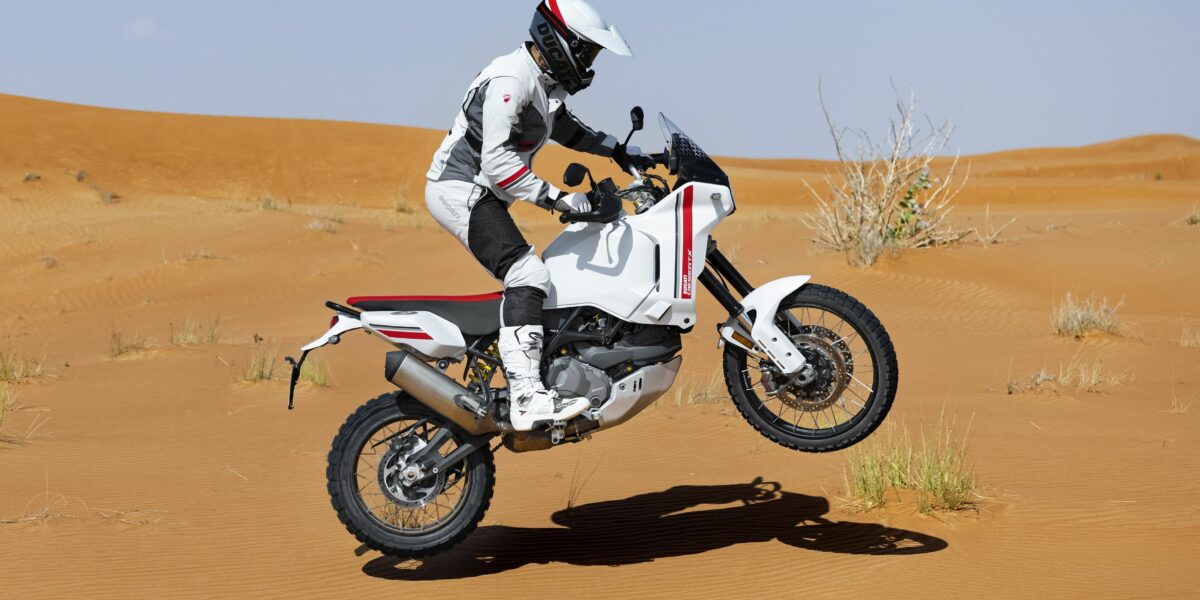 Ducati serves up DesertX Rally
With a chassis built around a 21″ wheel up front and an 18 incher to the rear – a first for Ducati – the original DesertX  was already a groundbreaking. Now there's a Rally model, a ground-eater made for the most upstanding of riders.
Ducati's all new DesertX was launched as an enduro, all be it a very nicely finished one.
The original has now been joined by the Rally version.
Both come with no fewer than six riding modes. The first four are the usual Sport, Touring, Urban and Wet.
The last two are specifically dedicated to riding off road.
The bikes 5" high-resolution TFT colour display is positioned to work best and be easier to see from a standing riding position.
Also working to make that upright riding stance easier is the arrangement of the handlebar and footpegs. All are designed so that the rider can naturally move to a standing position.
This is facilitated with the shape of the tank, and of the seat of which has a healthy height of 875mm. This height can be reduced with a low seat. There is even a lowered suspension kit available.
Controlling behaviour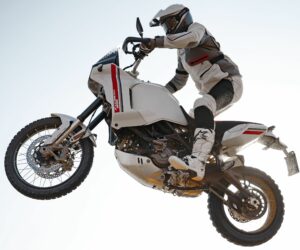 If the DesertX Rally had a middle name it'd be Control.
It comes with wheelie control, traction control, engine brake control and even a cruise control system for when you'd rather that someone else was riding for you. In addition there's Ducati's very clever cornering ABS and a quick-shifter for up and down gear changes.
All the lights are LED affairs.
Up front the headlight is composed by two bi-functional poly-ellipsoidal modules. These feature a daytime running light. This has been designed to ensure great visibility, even in the middle of nowhere with no ambient light.
This is a very clever motorcycle.
Long distance runner
Power comes from the 937 cc Testastretta 11° desmo engine, a twin cylinder block which is already a proven entity.
When it comes to fuelling the bike the standard range is 21 litres. You can always add a supplementary tank which will give you an extra eight litres.
Speaking of covering distance, the DesertX can carry a pillion as well as a healthy 120 litres of luggage space.
To find out more get in touch with any of the team at Rosso Ducati in Dublin. You can give them a bell on  01 464 2211.

Ducati insurance quote? Call our specialist motorbike insurance team on 0818 945 950.
Back to listing