17 December 2021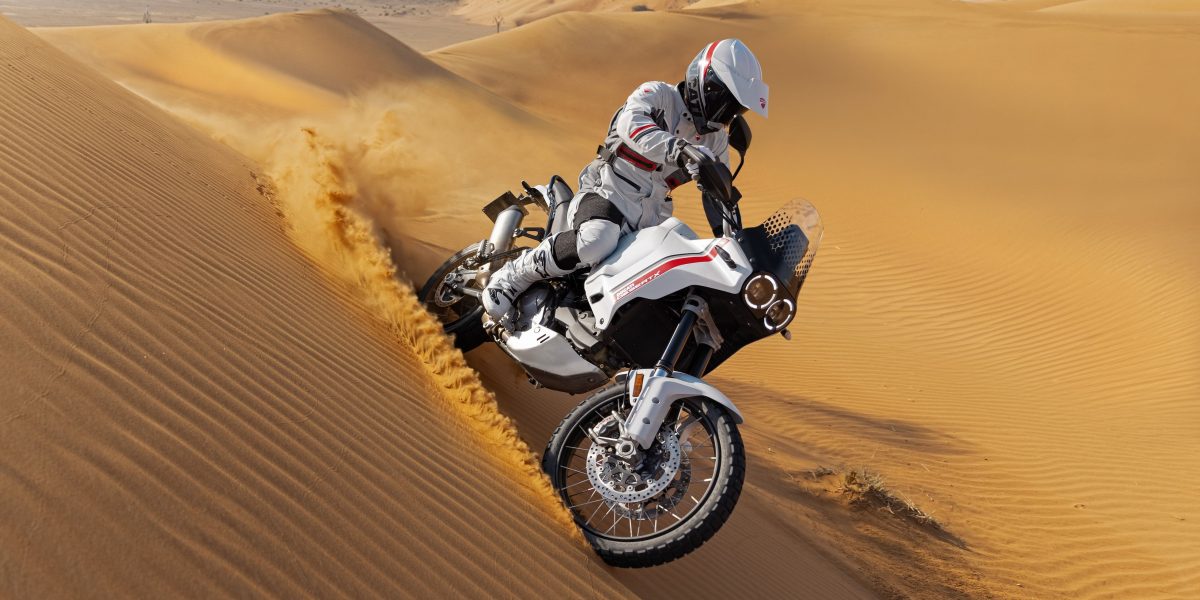 Ducati serves up hot Desert
This week Paul Browne is hot on the trail of the new Ducati Desert X, tech-laden love child of the Scrambler and Elefant.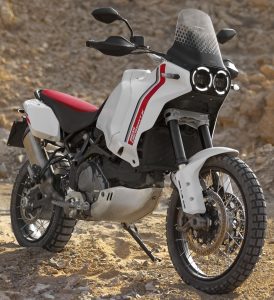 Ducati is flourishing under new ownership with the new Panigale range, the reborn Multistrada and the revived Scrambler sub brand.
The Scrambler was one of their offerings in the seventies before it was discontinued.
Several years ago it was re-introduced to the delight of a whole new generation of motorcyclists.
This week the Scrambler and the Elefant met up.
Now it's my pleasure to introduce their love child, the Desert X.
Dirt on the Desert
At first glance the bike looks like the Cagiva Elefant of long ago.
It has the same wide front and short wheelbase. It sits in a 21" front and an 18" rear.
These enjoy a fully adjustable Kayaba suspension set up that has 230mm of travel.
It's propelled by a reworked and lighter 937cc Testastretta 11 degree twin that is well proven elsewhere in Ducati's range, including the new, bigger, Scrambler offerings.
Even the flush LED lights and the paint scheme suggests that it means business!
Tech check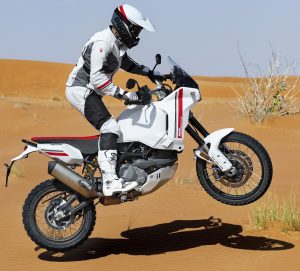 Like all Ducati machines it is full of all the latest tech.
The trellis frame is complemented with a set of USD forks. Stopping the show are a set of Brembo calipers on either end of the beast.
The braking system is managed through the rider modes, there is even a choice of cornering ABS settings as well as six riding modes including two dedicated to off road riding.
In control
The tech continues with wheelie control, traction control, engine brake control, a quick shifter and even cruise control. All of this is managed via the TFT screen which is modelled on the road book feature on the older desert bikes.
This is, of course, easy to marry up to your smart phone for navigation.
A number of optional add-ons are available, including three pieces of luggage, a lowering kit, a taller screen, main stand, a bench seat, engine bars as well as additional lights.
My favourite, however, is the extra rear mounted tank which holds an additional 8 litres of fuel to complement the main tanks 21 litre capacity. The whole thing weighs in at only 202 kilos dry.
For more info and to buy the Ducati Desert X, talk to Declan at Ducati Rosso on 01 464 2211.

Best Ducati motorcycle insurance quote? Give our specialist bike team a call on 0818 945 950.
Back to listing