19 May 2023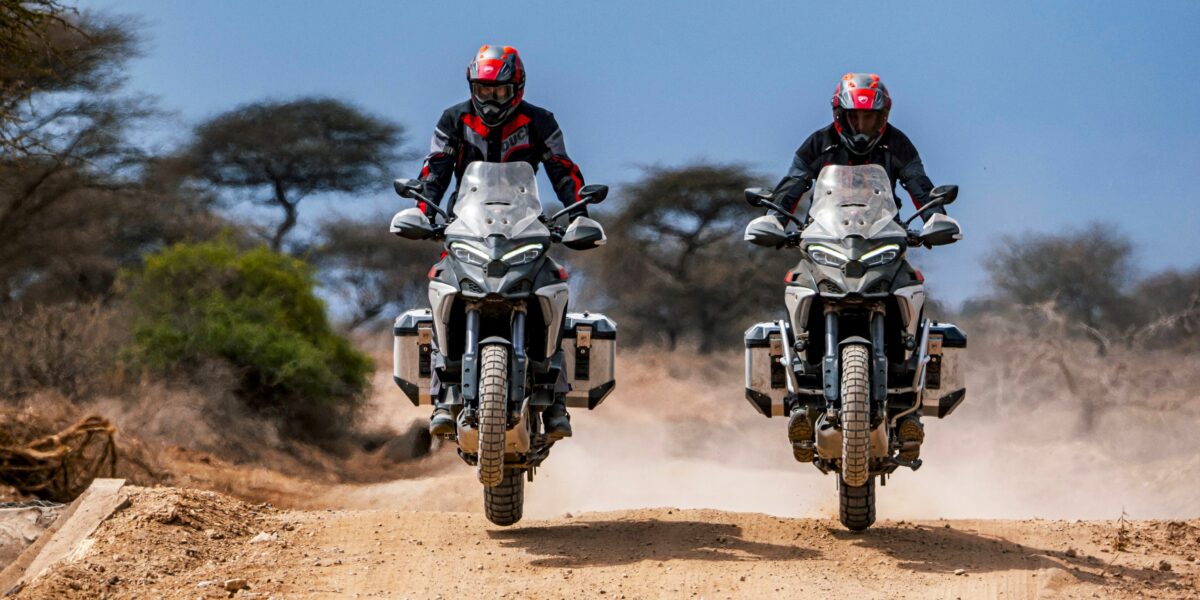 Ducati Multistrada now firing on all 4 cylinders
If your legs are as long as Paul Browne's and you share his appetite for high-powered tall-tourer action, then Ducati's new V4-fired Multistrada might be right up your street. Or dirt-track.
Ducati's team in Bologna have been having fun over the past few years with their V4 engine. Now they're using it in their latest range of Multistradas.
While the V4 produces a staggering amount of power in the Panigale, in the Multistrada it still makes a rather wonderful 170BHP.
Who actually needs that much power in a tall tourer is anyone's guess.
Who actually wants that much power in a tall tourer is a really easy question to answer. Me.
Miles better
The latest Ducati in the class only needs an oil change every 15,000 kilometres and a main service every 60,000 kilometres.
That mileage would take you from the top of Alaska to the bottom of South America. And it would do so twice.
As you'd expect, there's a built-in navigation system which is viewed on the TFT screen. There's also the rider assistance radar feature which is now almost standard on the range, having first been introduced by Ducati a number of years ago.
The radar sits on both the front and rear of the bike and is complemented by adaptive cruise control.  The latest generation of LED lights are also matched by a very clever blind spot detection feature.
Redesigned ergonomics offer more ground clearance whilst the electronic suspension allows the rider to tune the bike to their requirements.  Of course, the V4 engine offers an easier-to-use motor thanks to its smooth-running characteristics.
Stand up

But it's the tech which continues to be nothing short of dazzling.
Cornering ABS features, as do a set of very clever cornering lights.
The feature that I really like, though, is the option that allows the suspension to adjust when the bike is stationary and helps you to stand the bike up!
The Rally edition can be set to an off-road setting. This reduces the power all the way back to a paltry 114 bhp and knocks the rear ABS off.
All models can switch off the two rear cylinders when the bike is idling and this setting can even be activated when in motion. While this reduces the available power, it's kinder to the planet and makes a little less noise.
Crank job
Borrowing learnings from the lads in the Moto GP paddock, the bike's engine has a counter-rotating crank.
This piece of genius allows the machine to oppose the gyroscopic effect of a pair of turning wheels.
This makes for smoother running which makes for a bike that's a lot easier to use than a conventional tall tourer putting out a similar amount of power.
All of the new Multistrada V4 machines are covered by a full four-year warranty.
All rounder
With such an impressive spec I quietly reckon that the bike has everything to make for a show-off's commuter, a real-world global tourer and, with all that tech and power, a more than capable track day beast.
To find out more, drop by the showroom at Rosso Ducati.  Ask nicely and they might even make you a cup of coffee while they tell you how much one costs!

Ducati motorcycle insurance? Call our specialist two-wheel team on 0818 945 950.
Back to listing