13 October 2023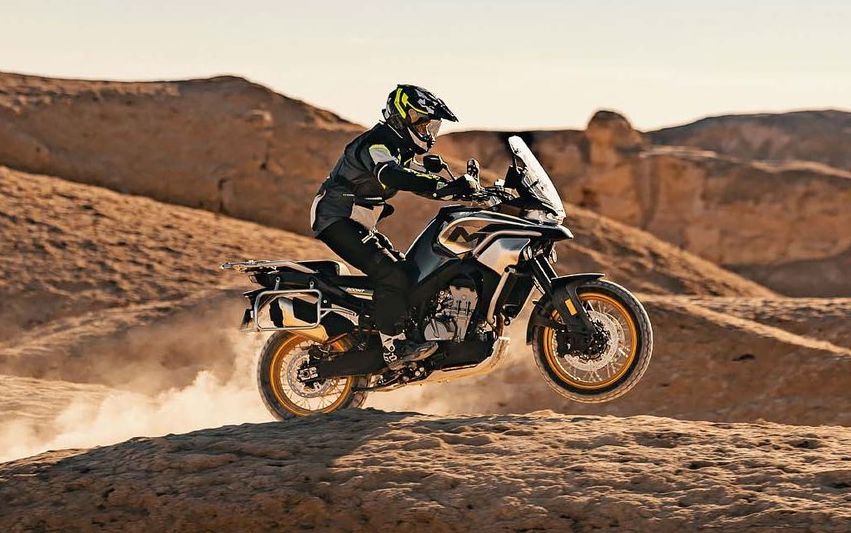 CF Moto is back!

Chinese motorcycles have come a long way since they first landed on our shores, none more so than CF Moto who've secured a new dealership here in Ireland.
Amongst the company's offerings is the new 800 MT Explore, a robust, versatile and well spec'd tourer.
Paul Browne casts an eye…
Chinese motorcycle giant, CF Moto, has been added to the range at Adventure Motorcycles Ireland in Wexford.
One of the machines they have to offer is the new 800MT Explore.
At the core of the beast is a very impressive motor. A 799cc block with a parallel-twin configuration puts out a shade under 93 bhp.
More importantly, there's 75 Nm of torque available at only 8,000 rpm.
Its power delivery is managed via an electric throttle and fuel injection.
Buttoned up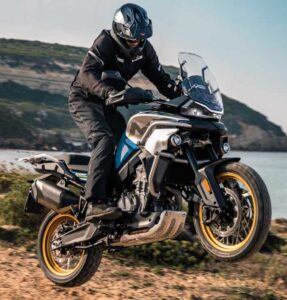 All-terrain, sport, off-road and 'I'm afraid of my bike' (rain mode) riding power and characteristics can be chosen at the touch of a button.
Weighing in at only 225 kilos, the 800MT Explore is an easy machine to work with on and off-road
Springing all of this is a non-adjustable rear shock and a set of 43mm fully adjustable forks.
Stopping comes compliments of a pair of J.Juan four-piston callipers and 320mm discs.
The same brand of calliper is also used on the rear. 
The Explore has a total weight capacity of 413kg. This means it can take a tasty 188 kilos of weight including a full 19 litres of fuel.
With the company's own luggage, there's plenty of storage space for everything you need for a few weeks away.
Easy rider
Speaking of comfort, the seat sits at 825mm. Having a width of 853mm combined with a short wheelbase, the bike is also easy to move about on and being shod on Michelin Anakees just adds to its ability to climb a Donegal goat track.
The rider aid suite is very impressive.
Along with the ABS as standard, there's an electric stability control function along with traction control. You'll also find a radar on the rear of the bike.
This is all in addition to Rear Collision Warning, Lane Change Assist and Blind Spot Detection. Cruise control also comes as standard.
To find out more about the 800MT Explore and other bikes in the range, give Gary at AMI a call on 05 39422415.

CF Moto bike insurance quote? Call our specialist two-wheel team on 0818 945 950.
Back to listing