25 November 2022
Open wide and say R

Powered by the well-proven 1,254cc boxer engine, BMW's refreshed Roadster, the BMW R 1250 R, packs a punch. Paul Browne reports.
The humble Roadster is no more. Say hello to the all new R 1250 R from BMW Motorrad.
The German motorcycle giant has taken the simple boxer-engined concept and festooned it with the latest technology in both creature comforts as well as safety.
Welcome to the Roadster 2023!
The single R has been around since before I was a child and it has always lived in the shadow of the GS and the RT.
Multi-talented Münchner
Those of us who've ridden one know that they have always been one of BMW Motorrad's best kept secrets.
A day out in the mountains, a two-up touring holiday, even a trackday, are all well within the models capabilities. And they always have been.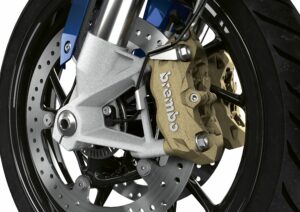 The current engine is still a 1,254cc block.
The ShiftCam technology which manages its varying valve timing and valve lift, allow it to put out 136 bhp and do so smoothly all across the rev range.
This makes it a wonderfully predictable machine to ride.
The technology continues with the standard Dynamic Traction Control.This comes in addition to a new ECO mode.
These can be added to with optional ride settings which the rider controls via a riding mode preselection.
There's even an option to add engine drag torque control to the bike.
Safe handling
These extras offer a substantial increase in handling and, ergo, safety. Add cornering ABS to the mix and safety is delivered without compromising the rider's enjoyment of the bike.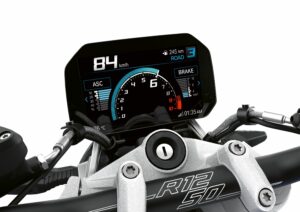 A set of LED indicators are complemented with a headlamp which comes with adaptive turning as standard.
These contribute to keeping the bike's weight lower than previous models, while offering more illumination.
Its TFT colour display presents the rider with an enormous amount of data.
It's easy to read and to scroll through the menu. This displays a host of information, including fuel efficiency, the gear and mode chosen as well as speed.
There's even a turn-by-turn navigator built in. In the sport setting it will show details such as lean angle, ABS intervention and the chosen power mode.
Want to know more? For BMW R 1250 R specs and info, visit BMW Motorrad's website or drop by and chat to the friendly folks at Joe Duffy's (Cork) or Kearys (Dublin).

BMW bike insurance quote? Call our specialist motorbike insurance team on 0818 945 950.
Back to listing