12 August 2022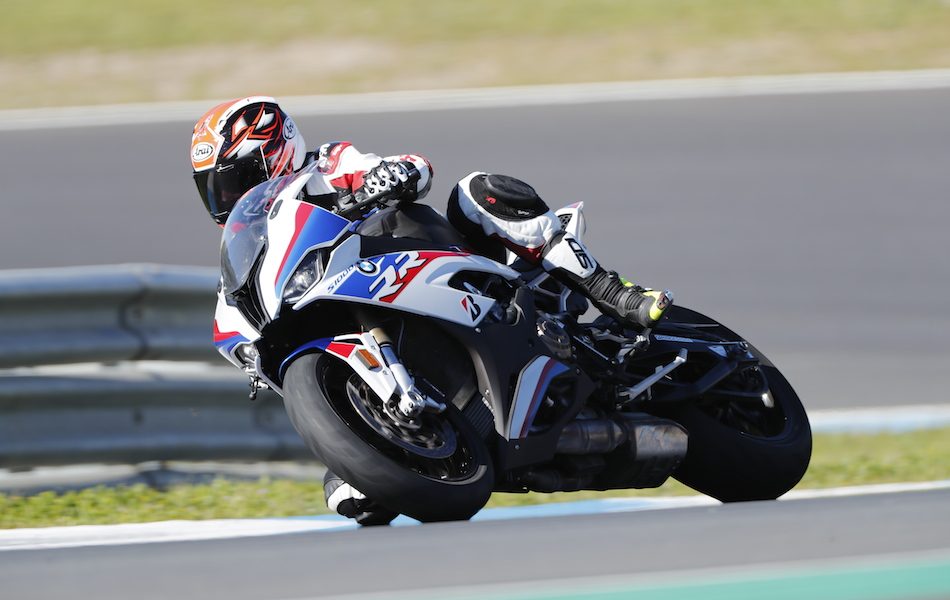 Arai keeps Nicole on track
Race ace Nicole Lynch has her Arai RX-7V to thank for helping her keep her head during this season's Dunlop Masters Superbike Championship.
This year's Principal Insurance supported Dunlop Masters Superbike Championship is proving to be better than ever.
Lap records are being broken, the calibre of the competitors has gone up and the racing is giving the spectators and fans their monies worth.
Nicole Lynch is one of those riders and has been enjoying the season so far.
She's now set her personal best lap times, earned a pole position in practice and has never raced better.
High flyer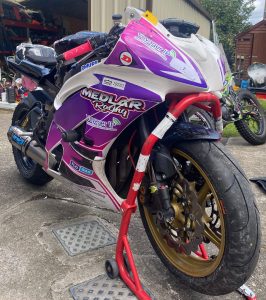 Her season has not, though, been without drama.
On the last race of July, while coming into the second last tight left-hand corner, she low-sided her Yamaha R6 at high speed.
The outside of the corner is well lined with gravel, as well as an unusually high kerb.
The bike caught it, flipped over landing upside down in the gravel.
Our superhero also ended up in the air.
Upon landing she destroyed her new Arai RX-7V.
After getting airborne, hitting the gravel and ploughing into the tyre wall, she was able to stand up and access the damage (pictured left).
A big part of this was because she was wearing PPE, in particular her RX-7V.
Setting standards
There are a number of minimum standards that motorcycle helmets need to meet. Arai exceed all of them.
The Japanese company employs a system called Peripherally Belted Structural Net Composite. Its hand- made helmets have shell flexibility as well as strength, married to low weight. The layers of fibres in the shell are bonded.
This allows the RX7V  to absorb a lot more impact than cheaper helmets.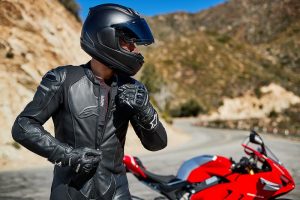 In the laboratory testing way exceeds what the regulations require and draws on real world incidents and rider feedback.
The shape of the helmet ensures that the impact point actually moves and diffuses the energy before it's absorbed into the shell itself.
Arai RX-7V helmets also offer a tailored fit thanks to a choice of liners and cheek pads.
The liners are constructed to be comfortable, manage heat and be washable. All official Arai dealers must be trained to service them.
These include Dublin's Megabikes and Murray Motorsport, Doyles (Athlone), Kennedy's (Drogheda), Meskell's (Lisnagry), O'Neills Power Equipment (Tralee), Ross Motorcycles (Cork) and Wexford Motorcycles.

Need the heads up on motorcycle insurance? We'll lift the lid! Call our specialist team on 0818 945 950
Back to listing