07 February 2020
Low Rider sets high bars
A set of high bars and what the American motor company describe as high horsepower are what defines the all new Harley-Davidson Low Rider S model.
This is a cruiser that they promise takes what they call 'a performance-first approach' to customising motorcycles.
The new bike is built around a Harley-Davidson Softail chassis.
This has been enhanced by premium suspension components, tuned for aggressive riding, while being 'stoked' by the power of that rather wonderful Milwaukee-Eight 114. It's an engine that once ridden is forever loved.
Raised hands
The raised hand controls are a defining element of what our American cousins call the 'coastal custom influence'.
The Low Rider gets in on the act by mounting a pretty cool one-inch diameter motocross-style handlebar on a set of four-inch high straight risers.
This has the effect of putting the rider in a much more aggressive riding position than we'd usually associate with the brand.
There's a colour-matched mini-fairing that frames the headlamp and blocks most of the head wind when riding.
The high back solo seat is cleverly shaped to hold the rider in place under hard acceleration.
Black is the new black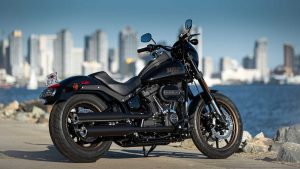 Everywhere that there would have been a bright finish has been replaced with black for an aggressive look.
The powertrain, primary cover and tank console are finished in 'Wrinkle Black'.
The derby cover, intake, and lower rocker covers are gloss black. End cans and exhaust shields are jet black.
Forks, triple-clamp, riser and handlebar, and rear fender supports are Matte Black.
The only way it could get any blacker is if were as black as my cold, dark, wrinkled up heart. Even the LED tail lamp has a smoked lens.
The bike rolls on a set of 'Radiate' cast aluminium wheels, with a 19-inch front and a 16-inch rear. These are finished in Matte Dark Bronze which offers an intriguing contrast to the motorcycle's dark components.
Silver surfer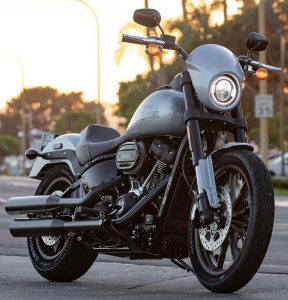 If you can't cope with all the black there is an option to take the brilliantly titled 'Barracuda Silver'.
Point your phone's browser at Youtube and look for Barracuda by Heart (or cut out the middleperson and click here). Check out the drummer. How much would you bet his bike was finished in 'Barracuda Silver'?
The Softail frame is designed to reduce weight without sacrificing stiffness.  At the same time it maintains the classic look of a hard tail but with a thoroughly modern ride.
The rear suspension is manually adjustable via the dial under the seat, while the front end is pulled back in to 28 degrees. The standard bike has a 30 degree rake.
So between a better frame suspension that works and a clever front end, this is a machine that would surprise non-Harley riders in both the handling and stopping stakes.
The Low Rider S starts at €22,655 including all taxes and is available from both Waterford and Dublin Harley Davidson. For the Low down, talk to Alan on 051 844 200 or Derek on 01 464 2211.

For your Harley Davidson insurance quote, call our specialist team on 1890 945950.
Back to listing